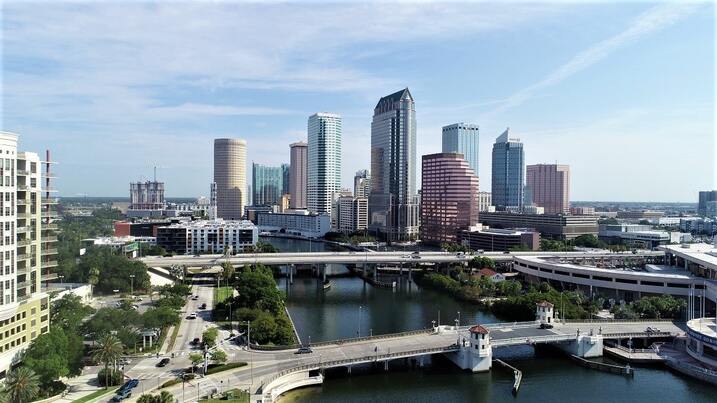 West Tampa, is still Tampa
Exploring West Tampa: Discovering Its History and Culture
Nestled along the Hillsborough River, West Tampa is a vibrant neighborhood with a rich history and diverse culture. A world away from the bustling city center, West Tampa offers a unique blend of architectural gems, mouthwatering cuisine, and engaging activities for all. Are you ready to embark on an unforgettable journey through this captivating corner of Tampa?
In this web page, we will delve into the origins of West Tampa, explore its stunning architecture, savor its local eateries and dishes, and share tips for making the most of your West Tampa experience. So let's begin our adventure!
Short Summary
Explore West Tampa's history and culture, including its founding by Hugh MacFarlane and Cuban immigrants.

Discover architectural gems such as the West Tampa Free Public Library & Guida Building.

Enjoy local eateries, cultural attractions & events for a unique experience year round.
Uncovering the Origins of West Tampa
West Tampa's story began in 1892 when Scottish immigrant Hugh MacFarlane purchased 200 acres of land near the Hillsborough River. Under MacFarlane's vision and leadership, the neighborhood flourished, eventually becoming Florida's fifth-largest city by 1912, with a staggering population of 8,258. Of course now it is a much larger city.
The Cuban connection played a significant role in shaping West Tampa's identity, as Cuban immigrants sought refuge from Spanish colonial rule and later, Fidel Castro's revolution. But who exactly was the visionary behind West Tampa, and how did its Cuban influence come to be?
The Visionary behind West Tampa
Hugh MacFarlane, a prosperous businessman and entrepreneur, immigrated to the United States in 1883 with a passion for real estate development. His dream for West Tampa was to create a vibrant, diverse, and prosperous community that would provide a safe and thriving environment for its residents.
Together with other investors and entrepreneurs, MacFarlane constructed homes, businesses, and public spaces, stimulating the local economy and setting the stage for West Tampa's initial growth. His lasting impact on the area can still be felt today, as West Tampa remains a flourishing and diverse neighborhood, a testament to MacFarlane's vision and dedication.
The Cuban Connection
The Cuban connection in West Tampa has deep roots, dating back to the late 19th century when Cuban immigrants established an enclave, seeking refuge from Spanish colonial rule in their homeland. This enclave provided a sense of community and belonging for its residents, and its influence can still be seen today in street names such as Calle Ocho, Calle Diez, and Calle Doce.
West Tampa's Cuban population grew significantly during the late 1950s and early 1960s, as more immigrants fled Cuba in the wake of Castro's revolution. This influx further strengthened the Cuban presence in the area, creating a lasting cultural impact that continues to shape West Tampa's unique identity.
Architectural Gems of West Tampa
As we stroll through the streets of West Tampa, one cannot help but notice its awe-inspiring architecture. Two prominent landmarks in the area are the West Tampa Free Public Library and the Guida Building, both serving as enduring symbols of the neighborhood's rich history and charm.
Let's take a closer look at these architectural gems.
West Tampa Free Public Library
The West Tampa Free Public Library, a Carnegie library, opened its doors in 1914, and since then, it has been a cornerstone of the community. More than just a repository of books, the library offers a diverse range of programs and events, including toddler playtime, computer classes for seniors, language lessons, and family history workshops.
In addition to its educational offerings, the library houses a treasure trove of historical resources, including archival, manuscript, and photographic materials that document Tampa's rich history. Stepping into the West Tampa Free Public Library is like stepping back in time, as visitors are surrounded by the stories and memories of the neighborhood's storied past.
Guida Building
Constructed in 1951 by George Guida Sr., a prominent contractor, and bank founder affectionately known as "Mr. West Tampa," the Guida Building is a two-story art deco home that stands as a monument to the neighborhood's history. Its striking design and unique architecture make it a must-see attraction for anyone exploring West Tampa.
Today, the Guida Building serves as the location of the Revive Church of Tampa, continuing to play a pivotal role in the lives of the community. As you walk by this historic structure, you can't help but marvel at its elegance and enduring presence in the neighborhood.
A Taste of West Tampa: Local Eateries and Dishes
One cannot explore West Tampa without indulging in its delicious local cuisine. From the iconic Cuban sandwich to the Honey Cuban "Obama" sandwich, West Tampa offers a plethora of mouthwatering dishes that are sure to tantalize your taste buds.
Let's dive into some of the neighborhood's culinary delights.
West Tampa Sandwich Shop Favorites
The West Tampa Sandwich Shop, known for its scrumptious croquettes and Cuban sandwiches, has been a staple in the Tampa Bay Area for years. As you step inside this charming eatery, you are welcomed by the aroma of freshly baked bread and the friendly chatter of patrons.
Among the most sought-after dishes at the West Tampa Sandwich Shop are the Cuban sandwich, Honey Cuban "Obama" sandwich, and the West Tampa Breakfast Special. The relaxed atmosphere and delicious food make it the perfect place to grab a bite with friends or family, whether you're in a hurry or looking to enjoy a leisurely meal.
Other Culinary Delights
In addition to the West Tampa Sandwich Shop, the neighborhood boasts a wide array of eateries offering Cuban and Venezuelan cuisine. Distinctive establishments like Babushka's and Chanta provide visitors with the opportunity to sample a diverse range of flavors, adding to the area's vibrant culinary scene.
Whether you're in the mood for a hearty meal or a light snack, West Tampa's array of restaurants and eateries caters to every palate. So why not embark on a culinary journey through this flavorful neighborhood and discover its gastronomic treasures for yourself?
Tips for Enjoying Your West Tampa Experience
To make the most of your West Tampa adventure, it's essential to have a few tips and tricks up your sleeves. From navigating the area and uncovering hidden gems to finding the best times to visit, we've got you covered.
Let's delve into some valuable advice for enjoying your West Tampa experience to the fullest.
Navigating West Tampa
Exploring West Tampa can be an exciting and rewarding experience, with attractions such as the Tampa Riverwalk, Armature Works, Busch Gardens, and the Florida Aquarium just a stone's throw away. Additionally, local markets, parks, and gardens offer ample opportunities for a leisurely stroll and discovery.
When it comes to visiting the West Tampa Sandwich Shop, we recommend placing orders over the phone for pick-up if you're pressed for time. This way, you can ensure that you won't miss out on the delicious flavors this iconic eatery has to offer.
Best Times to Visit
The ideal time to visit West Tampa is from February to early May and mid-October to early December, as the weather is typically mild and enjoyable. During these times, you can experience the neighborhood's beauty in full bloom and partake in various outdoor activities.
Another great reason to visit West Tampa during these periods is the abundance of festivals and events, such as the Gasparilla Pirate Festival, Tampa Bay Margarita Festival, and Tampa Bay Blues Festival. These lively celebrations provide the perfect opportunity to immerse yourself in the local culture and create lasting memories.
Cultural Attractions and Activities
West Tampa is brimming with cultural attractions and activities that cater to a wide range of interests. From art galleries and studios to festivals and events, there's something for everyone in this dynamic neighborhood.
Let's explore some of the cultural experiences that await you in West Tampa.
Art Galleries and Studios
While there aren't any specific art galleries and studios located within West Tampa, the nearby Tampa Museum of Art offers a wealth of artistic experiences. The museum showcases a diverse range of ancient, modern, and contemporary art and provides various art classes and exhibitions for visitors to enjoy.
As you wander through the museum, you can marvel at the stunning works on display and even unleash your creativity in one of the art classes offered. The Tampa Museum of Art is truly a haven for art enthusiasts and a must-visit destination when exploring the wider Tampa area.
Festivals and Events
There's never a dull moment in West Tampa, thanks to its vibrant festival and event scene. From the Riverwalk Holiday Spectacular in November to the Seminole Hard Rock Gasparilla Pirate Fest in January, there's always something exciting happening in the neighborhood.
In addition to these annual events, the official Tampa Bay calendar boasts a plethora of other festivities and happenings throughout the year, ensuring that there's always a reason to celebrate in this lively corner of Tampa. So mark your calendars and join in the fun as you immerse yourself in West Tampa's rich cultural tapestry.
Summary
Throughout our exploration of West Tampa, we've delved into its fascinating origins, admired its architectural treasures, savored its delectable cuisine, and discovered its vibrant cultural attractions and activities. From the visionary endeavors of Hugh MacFarlane to the enduring influence of the Cuban community, West Tampa is a neighborhood teeming with history and character.
As you plan your next adventure, consider adding West Tampa to your itinerary and experiencing firsthand the unique charm that sets this neighborhood apart. With its diverse attractions, mouthwatering cuisine, and warm, welcoming community, West Tampa is a destination that promises to create lasting memories and inspire a newfound appreciation for this remarkable corner of Tampa.
Frequently Asked Questions
What is considered West Tampa?
West Tampa is an area of Tampa, Florida bounded by the Hillsborough River to the east, Dr. Martin Luther King Jr. Blvd. (formerly Buffalo Ave.) to the north, Kennedy Blvd. (formerly Grand Central Ave.) to the south, and Dale Mabry Highway to the west.
It's a historically significant area that has helped shape the identity of Tampa.
Is West Tampa a good place to live?
Overall, Old West Tampa appears to be a desirable place to live. It has an urban suburban mix feel, lots of amenities, and highly rated schools - making it an attractive option for families and singles alike.
The area is close to downtown Tampa, making it easy to access the city's many attractions. It also has a variety of restaurants, shops, and entertainment.
What is West Tampa known for?
West Tampa is a neighborhood that has a deep history in cigar making, serving as the home of many of Ybor City's workers. It is also remembered for being the birthplace of the West Tampa Tobacco Company, founded by a local native Ricky Rodriguez. Today, this history continues to shape the identity of the West Tampa community. Below are just some of the magnificent homes for sale in West Tampa.
All listing information is deemed reliable but not guaranteed and should be independently verified through personal inspection by appropriate professionals. Listings displayed on this website may be subject to prior sale or removal from sale; availability of any listing should always be independent verified. Listing information is provided for consumer personal, non-commercial use, solely to identify potential properties for potential purchase; all other use is strictly prohibited and may violate relevant federal and state law. The source of the listing data is as follows: Stellar MLS (updated 9/26/23 3:39 PM) |