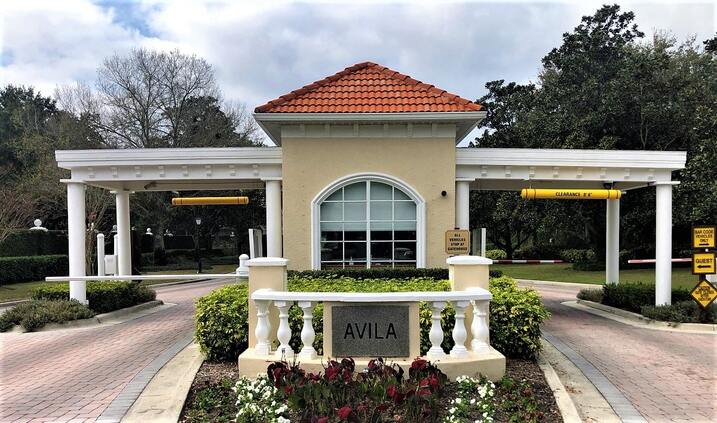 A Beautiful North Tampa Gated Neighborhood
Discover North Tampa - Tampa, FL. A Guide to the Local Area
Imagine a place where the urban-suburban mix comes alive with a diverse community, exciting attractions, and a vibrant housing market. Welcome to North Tampa, Florida! This charming area offers something for everyone, from family-friendly activities and top-rated schools to must-try restaurants and thrilling nightlife. Are you ready to explore all that North Tampa has to offer? Let's dive in!
Short Summary
Explore North Tampa and discover its bustling atmosphere, diverse culture & amazing attractions!

Experience family-friendly activities & access great educational opportunities for all ages!

Enjoy delicious culinary options, vibrant nightlife, outdoor adventures & sports facilities in North Tampa's stunning parks and green spaces!
Exploring North Tampa

Nestled in the heart of South Florida, North Tampa is a bustling neighborhood known as "Bulls Country" after the University of South Florida Bulls. Home to over 8,631 residents, this diverse community represents almost every race and culture, creating a unique and welcoming atmosphere. Conveniently located just a stone's throw away from Pasco County and Central Tampa, North Tampa is an ideal spot for both work and play.
The area is flooded with new restaurants and exciting plans to beautify the local mall, making it an attractive destination for both residents and visitors alike. With plenty of parks, entertainment options, and a strong housing market, North Tampa is undoubtedly a fantastic place to live, work, and explore.
Neighborhood Highlights
One of the best ways to discover the charm of North Tampa is by visiting its most popular attractions. The USF Botanical Garden is a natural oasis filled with butterflies, herb gardens, orchids, bromeliads, palms, fruit trees, and over 60 species of birds and gopher tortoises. Just a short drive away, you'll find the 3,000-acre Hillsborough River State Park, where you can enjoy hiking and nature trails while marveling at the breathtaking Class 2 river rapids and gorgeous oak trees. The park has a lot to offer. It includes campgrounds, picnic areas, a playground, and places to rent or launch a kayak or canoe.
For a taste of "old Florida," head to Boyett's Citrus Attraction in Odessa, where you'll find a unique and nostalgic experience. From the USF Botanical Garden to Boyett's Citrus Attraction, North Tampa is truly a treasure trove of must-visit attractions.
Family-Friendly Activities
North Tampa is the perfect place for families, offering plenty of activities to keep everyone entertained. A visit to the Odessa Wildlife Rescue & Sanctuary, home to over 450 animals such as zebras, raccoons, goats, rabbits, and domestic cats & dogs, will surely delight children and adults alike. Their mission to provide animals with a loving forever home makes it even more heartwarming.
Meanwhile, Old McMicky's Farm offers a hands-on interactive educational experience, where kids can get up close and personal with farm animals, enjoy tractor-drawn hayrides, milk a cow, catch chickens, and even ride a pony. For a more educational outing, the Brooker Creek Preserve Environmental Education Center supports the largest natural area in Pinellas County through engaging programs and volunteerism.
With so many family-friendly activities, it's no wonder North Tampa is a favorite destination for families looking to have some fun!
Housing and Real Estate

The housing and real estate market in North Tampa is vibrant and diverse, offering a variety of options for homebuyers and renters alike. A whopping 82% of residents choose to rent their homes, making it a strong rental market.
For those looking to buy, sponsored mortgage options are available, making homeownership more accessible for many.
Types of Homes
When it comes to homes in North Tampa, there's something for everyone. The area offers an array of single-family homes, townhouses, apartments, and condos to suit all budgets and lifestyles.
Single-family homes provide more privacy and space compared to other types of homes, but they also require more maintenance and upkeep. As you explore the neighborhoods of North Tampa, you'll discover a wide variety of housing options that cater to different needs and preferences.
Tips for Homebuyers and Renters
If you're considering making North Tampa your home, it's essential to do your research to find the best deals. Given the strong rental market and the rising cost of housing in the area, it's crucial to be well-informed and prepared.
Make sure to explore first-time homebuyer programs and loan options to maximize your opportunities in this thriving market.
Education and Schools

North Tampa boasts a diverse range of educational options, from charter schools and private institutions to alternative schools. Some of the private schools in the area include North Tampa Christian Academy, Berkeley Preparatory School, and Tampa Preparatory School, providing exceptional education to their students.
The public schools in the area are highly rated, with an overall grade of A minus zero, ensuring that families have access to quality education.
Top-Rated Schools
Among the top-rated schools in North Tampa are Bryant Elementary School, Horizon Charter School of Tampa, Bell Creek Academy High School, and Tampa Bay Technical High School, as well as several highly rated private schools like Carrollwood Day School, Jesuit, Cambridge Christian, Berkeley Prep, and Corbett Prep.
Whether you're looking for an outstanding elementary, middle, or high school, North Tampa has you covered with a variety of exceptional educational institutions.
Higher Education Opportunities
For those seeking higher education, North Tampa is home to several esteemed colleges and universities, including the University of South Florida, the University of Tampa, Florida Technical College, Schiller International University, Galen College of Nursing-Tampa Bay, and Strayer University-Florida. These institutions offer a wide range of degree and certificate programs in fields such as business, healthcare, and technology, providing students with a strong foundation for their future careers.
With so many higher education opportunities at your fingertips, North Tampa is the perfect place to pursue your dreams.
Dining and Entertainment
North Tampa's dining scene is as diverse as its residents, offering a plethora of culinary delights to satisfy any palate. From local eateries to international cuisine, there's no shortage of tasty options to explore.
And when the sun goes down, the fun continues with a vibrant nightlife scene sure to keep you entertained well into the night.
Must-Try Restaurants
If you're looking for a memorable dining experience, you won't want to miss the must-try restaurants in North Tampa. Savor authentic Mexican flavors at Cantina Laredo, indulge in succulent steaks and seafood at Council Oak Steaks & Seafood, or enjoy contemporary American cuisine at The Refinery and Rooster and the Till.
For Italian fare, head to Gino's Restaurant and Bar, and don't forget to check out Skipper's Smokehouse, Bearss Tavern, Boil Spot, and Mr. and Mrs. Crab for some fantastic seafood options. With so many incredible restaurants to choose from, your taste buds will thank you!
Nightlife Hotspots

When it comes to nightlife, North Tampa has something for everyone. Dance the night away at Club Prana, sip on craft cocktails at Gaspar's Grotto, or catch a live show at The Ritz Ybor and Crowbar.
For a more laid-back atmosphere, head to The Hub Bar & Grill, The Bricks of Ybor, or The Castle, where you can mingle with locals and fellow visitors alike. Whether you're looking for a lively party or a relaxed evening with friends, North Tampa's nightlife scene has it all.
Outdoor Adventures and Recreation

In addition to its vibrant dining and entertainment scene, North Tampa offers a wealth of outdoor adventures and recreational activities for all ages. From beautiful parks and green spaces to sports facilities and fitness centers, there's something for everyone to enjoy in North Tampa.
Whether you're looking for a leisurely stroll through a nature preserve or an adrenaline-filled day of mountain biking, North Tampa has it all. With its diverse range of outdoor activities, North Tampa is the perfect location.
Parks and Green Spaces

North Tampa is home to several stunning parks and green spaces, perfect for enjoying Florida's beautiful weather. Visit Cypress Point Park, Town 'N Country Commons & Westgate Park, Town 'N Country Park, and Lettuce Lake Park to experience playgrounds, picnic areas, walking trails, and breathtaking natural beauty.
Don't forget to check out the thrilling attractions at Busch Gardens and Adventure Island, where you'll find fun-filled adventures for the whole family.
Sports and Fitness Facilities
For sports enthusiasts and fitness buffs, North Tampa boasts an impressive array of facilities to help you stay active and healthy. Check out CrossFit Big Guava, Crunch, DrivenFit, Fitness 360 Westchase, Gold's Gym Tampa, MI40 Gym, and Optimum 24/7 Gym for indoor workouts.
If you prefer the great outdoors, you'll find basketball courts, fitness equipment, picnic shelters, splash pads, playgrounds, tennis courts, and paved trails throughout the area. Don't miss the New Tampa Recreation Center, a state-of-the-art facility with a fitness center, gymnasium, pool, and more.
Summary
In conclusion, North Tampa is a vibrant and diverse community that offers something for everyone. With its outstanding schools, thriving housing market, exciting dining and entertainment options, and ample outdoor recreation opportunities, it's no wonder that North Tampa is such a popular destination for both residents and visitors. Whether you're looking to settle down, start a family, or simply enjoy all that this charming neighborhood has to offer, there's no better time to discover North Tampa than right now.
So, what are you waiting for? Pack your bags, grab your sunglasses, and get ready to embark on an unforgettable adventure in North Tampa, Florida! There's a world of excitement waiting for you, and it's all just a stone's throw away.
Frequently Asked Questions
Is North Tampa a good area?
North Tampa is the perfect balance between urban and suburban living! With lots of restaurants, coffee shops and parks, as well as highly rated public schools, it's an ideal area for families.
Plus, most people rent their homes, making North Tampa an accessible, desirable option.
What areas are considered North Tampa?
Welcome to North Tampa! This vibrant area includes Tampa, Forest Hills, Harvey Heights, North Tampa (neighborhood), Tampa Overlook, Temple Crest, Terrace Park and University Square, as well as New Tampa.
Come explore all that the region has to offer!
What are the demographics of North Tampa?
Welcome to North Tampa - a vibrant neighborhood with an abundance of cultural diversity! The population density is 6,974 people per square mile, and the racial makeup consists of 39% white, 50% African American, less than 1% Native American, 1% Asian, 7% from other races, and 4% from two or more races. Hispanic or Latino residents make up 28% of the population. Reach out to us today about any homes for sale in North Tampa.
All listing information is deemed reliable but not guaranteed and should be independently verified through personal inspection by appropriate professionals. Listings displayed on this website may be subject to prior sale or removal from sale; availability of any listing should always be independent verified. Listing information is provided for consumer personal, non-commercial use, solely to identify potential properties for potential purchase; all other use is strictly prohibited and may violate relevant federal and state law. The source of the listing data is as follows: Stellar MLS (updated 9/26/23 3:43 PM) |